While customers rarely, if ever, interact with the cooks in your quick-service or fast casual restaurant locations, you know that what they're really there for is the food! Well-trained prep and line cooks are as much a part of a consistent and enjoyable customer experience as your customer-facing employees, and so proper line and prep cook training is vital for your restaurant business. 

Prep Cooks vs. Line Cooks: What's the Difference?
Generally speaking, the main differences between prep cooks and line cooks are the tasks they are responsible for and the level of experience and skill required for each position. They both work with all the staff in the kitchen and keep things running smoothly, but knowing how best to utilize each of their abilities can run your operation efficiently in even the most chaotic of times.
A prep cook is typically responsible for preparing all the ingredients that will eventually be turned into delicious meals for your restaurant. Depending on your menu needs and your internal workflow, prep cook responsibilities can sometimes be completed by front-line crew members, or even prepared in a ghost kitchen and delivered already prepared. Prep cooks generally do not need as much experience or restaurant training as line cooks, as they are responsible for more basic tasks. In many establishments, prep cooks have an earlier shift in the day to prepare everything, but may not be needed at all throughout the rest of the day's shifts.
Prep cooks may also be responsible for putting items away, keeping the area clear for the cook staff, maintaining the kitchen equipment, and ensuring hygiene and cleanliness of the kitchen. They can help label ingredients to help organize food storage, and it's not uncommon for prep cooks to assist the line cooks in preparing meals if it's useful. It's not uncommon for prep cooks who can add additional responsibilities and keep their station functioning to easily transition to becoming a line cook.
The line cook is generally more responsible for the actual cooking and preparing of your menu items. They use the already-prepped ingredients to put together the finished product. The line cook job involves working and communicating closely with the rest of the cooking team, and communicating with the front-line team members to know when certain menu items are running low, or if there are special or customized orders to prepare. Generally speaking, the line cooks are responsible for following recipes, ensuring any required changes are implemented, plating or transporting the finished dishes for service, and then cleaning their station between tasks.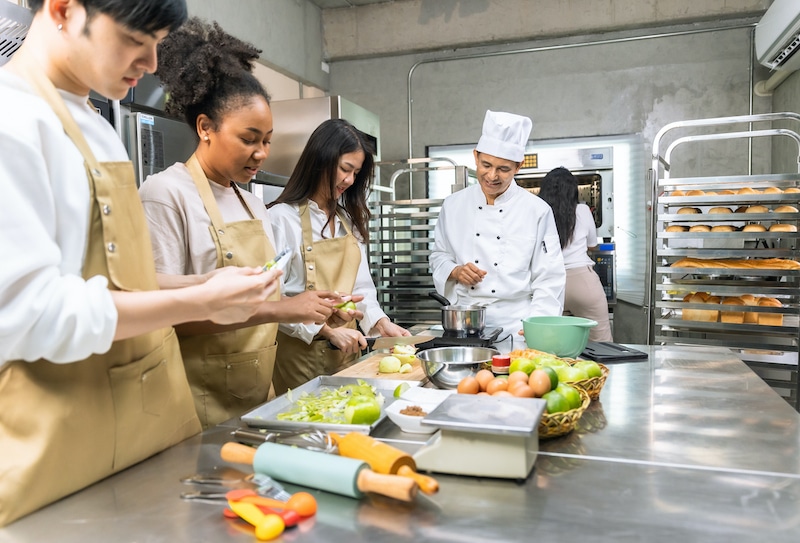 Prep cook responsibilities and training
The training required for a prep cook will depend on the specific needs of the restaurant and the level of experience and skill desired for the position. Some prep cooks may have completed formal culinary education, while others may have learned their skills through on-the-job training or apprenticeships. In most quick-service and fast casual restaurants, the prep cooks are more of an entry-level position to get someone started working in a kitchen.
Regardless of the specific training path, prep cooks should have strong technical skills, good communication and teamwork skills, and the ability to work well under pressure. While your store manager primarily manages the relationship between suppliers and the business, a prep cook may help to manage the logistical flow of ingredient inventory, ensure food safety standards are met, and communicate with managers when things are running low.
Managing Inventory
Because the prep cook is most closely working with ingredient inventory and supplies, there are several tasks and responsibilities that may be best to train them on. This responsibility may be given to someone else in your organization, but generally the prep cook is a good candidate for helping with the inventory management of the ingredients and supplies they prepare on a day-to-day basis.
Here are some of the inventory management tasks they may need to be trained on:
Accepting, labeling, and properly storing deliveries
Properly organizing supplies by date within the refrigerator/freezer/pantry to ensure waste is minimized and local regulations are followed
Ensuring proper food safety and temperature guidelines are followed to avoid any health risks
Breaking down bulk items into manageable containers for easier storage and access
Distributing inventory to appropriate cook stations
Tracking when inventory is low and reporting to the store or shift manager
Understanding seasonality to know when certain ingredients may be required more or less than usual
Utilizing inventory management software solutions to ensure proper accounting, analytics, and purchasing.
Preparing Ingredients
The most common responsibility of the prep cooks is to take the bulk ingredients that are commonly used in the menu items, and prepare them for easy use by the line cooks. Generally speaking, this involves a ton of chopping and dicing, and then stored in the appropriate containers for use throughout the day. Some ingredients may also need to be prepared for several days at a time.
What this looks like varies wildly between different restaurant chains, and is completely dependent on the type of food you cook and what your menu actually consists of. For instance, the preparation of ingredients for a soup-and-salad restaurant would be completely different for a bakery or coffee shop.
Some of the many possible responsibilities of your prep cooks include:
Washing produce
Peeling produce if the skin is undesirable
De-seeding produce if needed
Cutting produce and other ingredients to an appropriate size according to specific dishes (julienne style, sliced, etc.)
Defrosting meat/fish/mollusks/crustaceans
Removing excess fat, bones, etc. from meat ingredients
Breading food for frying/baking
Creating portion pastes, basic sauces, and pasta for dishes
Making dough for baked or fried pastries and breads
Organize dish stations and ensure cleanliness and maintenance of cooking equipment
Ensuring the entire restaurant is stocked, from the kitchen to the utensils, and even the bathroom
To properly train your prep cooks, you need to have a clearly detailed outline of what their responsibilities will be. Then you can adapt your restaurant training manual to match.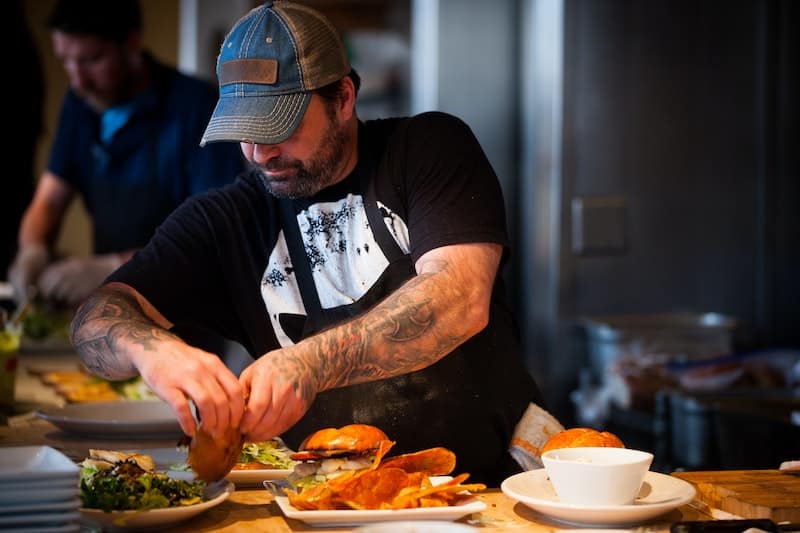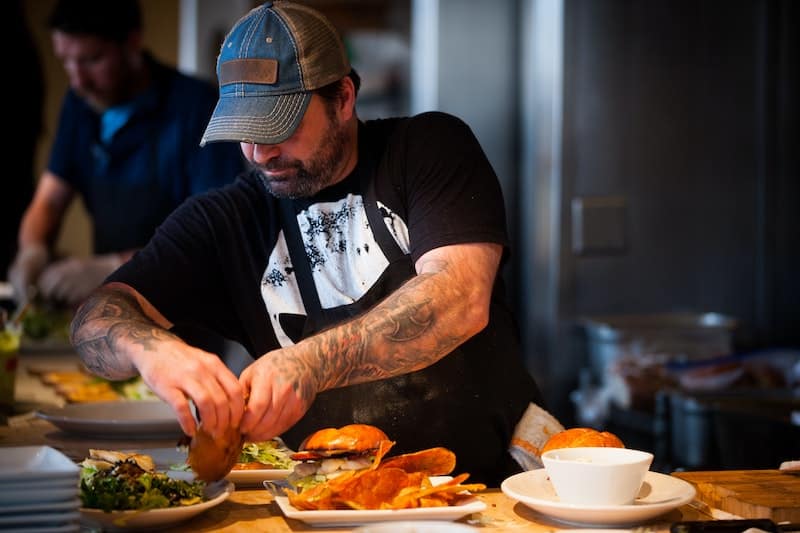 Line cook responsibilities and training
Line cooks are responsible for cooking and preparing your menu items, either according to order or in large batches to accommodate quick service times. Line cooks typically work in a fast-paced environment and must be able to multitask effectively and work well under pressure. They should also have strong communication and teamwork skills, as they will be working closely with other kitchen staff to prepare and cook dishes.
Thankfully, if the responsibilities of the prep cook are well-executed, the line cook really will only have to worry about one main job: preparing the food that the customers are craving. Here are some of the things that you'll want to cover when training your line cooks, both during your restaurant employee onboarding and during ongoing training:
Familiarity with the kitchen setup, equipment, and how people will be navigating through the space
Following recipes and cooking instructions accurately to ensure that dishes are prepared to the required standards, and consistently across all your locations
Monitoring the cooking process to ensure that dishes are cooked to the correct temperature and are ready to be served while following food safety guidelines
Plating and assembling finished dishes for service, ensuring that they are presented attractively and according to the restaurant's standards
Maintaining a clean and organized work area, including washing and sanitizing equipment and surfaces, and maintaining cooking equipment
Communicating with other kitchen and front-line staff to coordinate the flow of orders and ensure that dishes are prepared in a timely manner
Ensuring that all food safety and sanitation guidelines are followed
This training list is essential to what your line cooks will be expected to do on a day-to-day basis, but it will definitely look different depending on your specific restaurant's needs. It is vital to hire the right personality for these roles. A cool-headed person who works well under pressure and can manage various tasks at once will be an easy team member to train and transition into your kitchen.
Training for all Cooks and Kitchen Staff
The responsibilities between prep cooks and line cooks can be very different, but both are heavily involved with the proper handling of food. As such, there are two essential areas of focus for both of these positions: safe food handling, and knife safety. Both are vital for the safety of both your employees and your customers.
Food Safety Training
Food safety training is designed to educate food handlers about the safe handling, preparation, and storage of food. While there are different regulatory requirements for food safety training depending on your location, there is nearly always some sort of required training in this area in order to meet government regulations. Each country, state, or province will have its own requirements and regulations, so make sure to check with your local government agencies for the most up-to-date information.
The main goal of food safety training is to prevent foodborne illness by teaching food handlers how to properly handle, prepare, and store food in a way that minimizes the risk of contamination. These topics absolutely must be part of your restaurant employee onboarding, as well as your ongoing restaurant training program. The importance of food safety cannot be stressed enough in your food service business.
Food safety training typically covers several key areas, including:
Proper sanitation and hygiene: This includes how to properly wash hands and maintain personal hygiene, as well as how to clean and sanitize equipment and surfaces.
Temperature control: This includes how to properly store and cook food at safe temperatures to prevent the growth of harmful bacteria.
Cross-contamination: This includes training on how to properly store and prepare food to prevent the spread of bacteria and other contaminants.
Allergen control: This includes how to properly handle, prepare, and store food to prevent cross-contact of allergens.
Pest control: This includes how to identify and prevent pests from entering the food preparation area.
Recalling Food: Training on how to identify and recall potentially hazardous food.
To learn more about food safety training, you can find more information in our Food Safety Training blog.
Knife Safety Training
Knife safety training teaches food handlers how to properly handle, sharpen, and maintain knives to minimize the risk of injury. The main goal of knife safety training is to prevent accidents and injuries by teaching food handlers how to handle knives safely and efficiently.
In the United States, there are no specific federal regulations for knife safety training in food service establishments. However, employers are generally responsible for providing a safe working environment for their employees, and that includes providing training on safe knife handling. It's also important to note that OSHA (The Occupational Safety and Health Administration) does require all employers to provide safety training on the proper use of any equipment, and in this case that would also include knives.
A quality knife safety training program will typically cover several key areas, including:
Proper handling techniques: This includes training on how to grip and hold a knife properly, as well as how to make clean cuts and avoid dangerous motions.
Sharpening and maintenance: This includes training on how to properly sharpen and maintain knives to ensure they are safe to use and in good condition.
Safety precautions: This includes training on how to avoid common hazards, such as slips, cuts, and injuries, as well as how to properly store and transport knives.
Identifying and handling of different types of knives: This includes training on how to identify and use different types of knives, such as chef knives, paring knives, and utility knives, and use them correctly and efficiently.
First aid and emergency procedures: Training on how to handle injuries and emergencies that may arise from using knives.
While knife safety training is typically not required by law, it's in your best interest to ensure that your line and prep cooks are properly trained, and retrained, on the proper and safe use of knives. Not only is the slip of the knife a great way to disrupt a shift, it can also lead to much more costly consequences for you and your restaurant business.
To learn more about knife safety training, you can find more information in our knife safety training blog.
Manage Line and Prep Cook Training with Restaurant HR Software
When working within a restaurant enterprise with many locations, you can save yourself a lot of time and effort during restaurant employee training by utilizing restaurant HR software. This software can be incredibly useful for keeping updated versions of your manuals, videos, and other resources in a place that can be accessed and referenced from anywhere and at any time.
Not only that, but restaurant HR software can also help you create onboarding and training documents and checklists that will ensure that each employee is up-to-date on their training, and that no important topics are missed. This can be especially useful when you are managing the training of new employees across a large number of locations, saving your HR department a lot of time and energy in tracking the progress of each new employee.