Food safety is an important topic for everyone to know about, especially when it comes to working in a restaurant. It's of vital importance to the health of both employees and customers for anyone who handles food to understand and implement the fundamentals of food safety. In this article, we'll discuss all the major questions surrounding food safety training for restaurant employees, so you can have a proper and complete food safety training program in your food business.

What is Food Safety Training?
Food safety training is the education required for those who handle food to understand the dangers of food contamination, how to avoid it, and consider other food-related situations where improper conduct can lead to major (or minor) health implications. A complete food safety training program encompasses everything from the cultivation and harvesting of food, to the transportation and storage of food, and finally to the preparation and serving of food to the consumer.
Why is Food Safety Training Important?
Food safety is an absolutely vital area of education for anyone who eats food. So, everyone. According to the World Health Organization, an estimated 600 million people – almost one in every ten people – get sick from eating contaminated food every year. Of those that get sick, about 420,000 people die from food-borne illness every year.
You'd think it would be better in a country like the United States, but according to the FDA, about 48 million people – about one in every six people – get sick in the United States every year.
So, food safety training has an immediate and major impact on the health of the community and population as a whole, and it's important to remember that. But, on a level that's more close-to-home, food safety training also has an immense impact on your food business in a several ways.
Food safety training ensures the safety of your customers
The most obvious result of proper food safety training is that it helps to ensure that your customers can trust your food, and can enjoy it without worrying about potential dangers. While generally this is understood as avoiding common issues like food poisoning or salmonella, it also encompasses avoiding allergic reactions and other food-related hazards.
Food safety training ensures the safety of your employees
In addition to the dangers that can be present when eating food that isn't properly prepared, there are additional risks to those who are involved with the preparation itself. This involves proper personal hygiene during preparation, knowledge of basic first aid in the case of an accident, and also avoidance of pests that can cause other unforeseen issues.
Food safety training helps to avoid costly mistakes and legal issues
While the health and safety of people is always the top priority for food handlers, the result of such situations can often result in major financial and legal troubles for food service businesses. Restaurants can sometimes run on thin margins, especially in certain seasons or depending on the economic climate of the community, so a major difficulty like a big lawsuit can be a backbreaker.
Food safety training is required by law
One simple reason food safety training is important is that, in most places, the law says so. Behind those laws are all the reasons we've already discussed, but when it comes to running a business it's important to know what the local regulations are, and what the costs of not meeting those standards might be. Each country, state, or province will have its own requirements and regulations, so make sure to check with your local government agencies for the most up-to-date information.
Food safety training is good for business
When we put a pause on considering all the negative implications of poor food safety, we can also see a ton of benefits to implementing solid food safety training in your food business. Food safety training actually provides a great opportunity for you to find success in your food service business. Here are some of the more notable benefits:
Good reputation – Great food hygiene and safety lends credibility to your brand, and helps to promote loyalty and trust in your restaurants.
Decreases costs – Great food safety practices helps to mitigate food waste, the cost of meal compensations, and reduce pest control needs.
Employee morale and trust – Enforcing proper food safety practices helps to foster trust in your employees, because they know that you have their safety, and the safety of your customers, as a top priority.
Increased efficiency – One great byproduct of quality food safety training is that it naturally puts into place repeatable processes that improve efficiency and help the flow of work on a day-to-day basis.
What Food Safety Training is Required by Law?
The food industry is full of different regulations and laws, and it would be nearly impossible to go over all of them in one article. But, while regulations vary from location to location, in the United States there are regulations that are common for all food service businesses. Some of these include:
Food Safety Modernization Act (FSMA) – Includes seven major rules to ensure the safety of the food supply chain, from growth to transportation to preparation.
Hazard Analysis Critical Control Point (HACCP) – HACCP is a management system in which food safety is addressed through the analysis and control of biological, chemical, and physical hazards from raw material production, procurement and handling, to manufacturing, distribution and consumption of the finished product.
Federal Food, Drug, and Cosmetic Act (FFDCA) – Section 408 authorizes Environmental Protection Agency (EPA) to set tolerances, or maximum residue limits, for pesticide residues on foods.
If you haven't already, you'll want to review the documentation given by each regulatory body for each of these regulations, which you can find by clicking on the links above. Each country, state, or province will have its own requirements and regulations, so make sure to check with your local government agencies for the most up-to-date information.
Read More: Restaurant Health Code Violations and How to Avoid Them
Read More: 11 FDA Menu Labeling Requirements
Who is required to undergo food safety training?
Across the United States and Canada, every state and province has requirements about food safety training in food service businesses. However, the requirements do vary a little bit by state, with some states requiring everyone who handles food to be certified, and others only requiring certain job roles to obtain certification.
The same is true in most countries outside of the U.S. and Canada as well, though the amount of regulation and the rules applied can vary significantly depending on your locale. Again, make sure to check with your local government agencies for the most up-to-date information.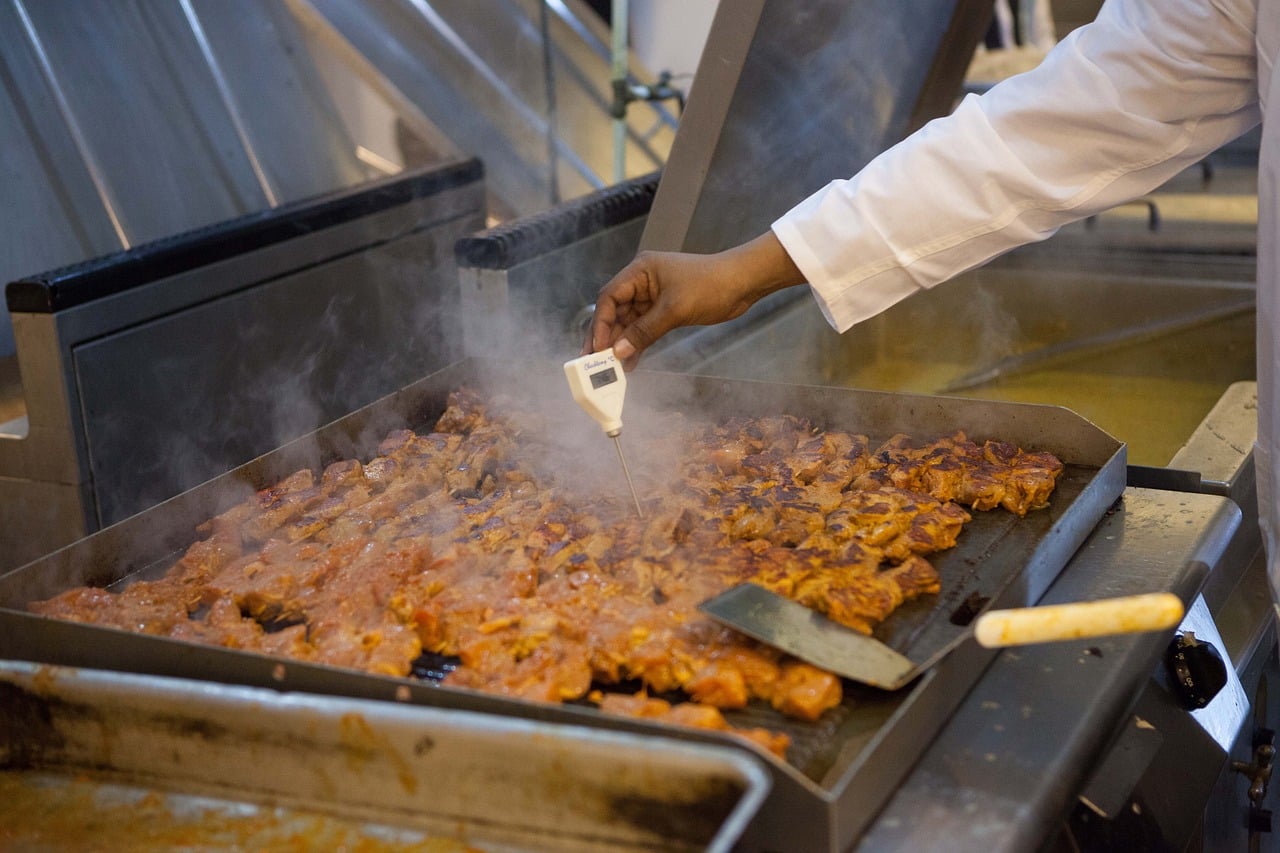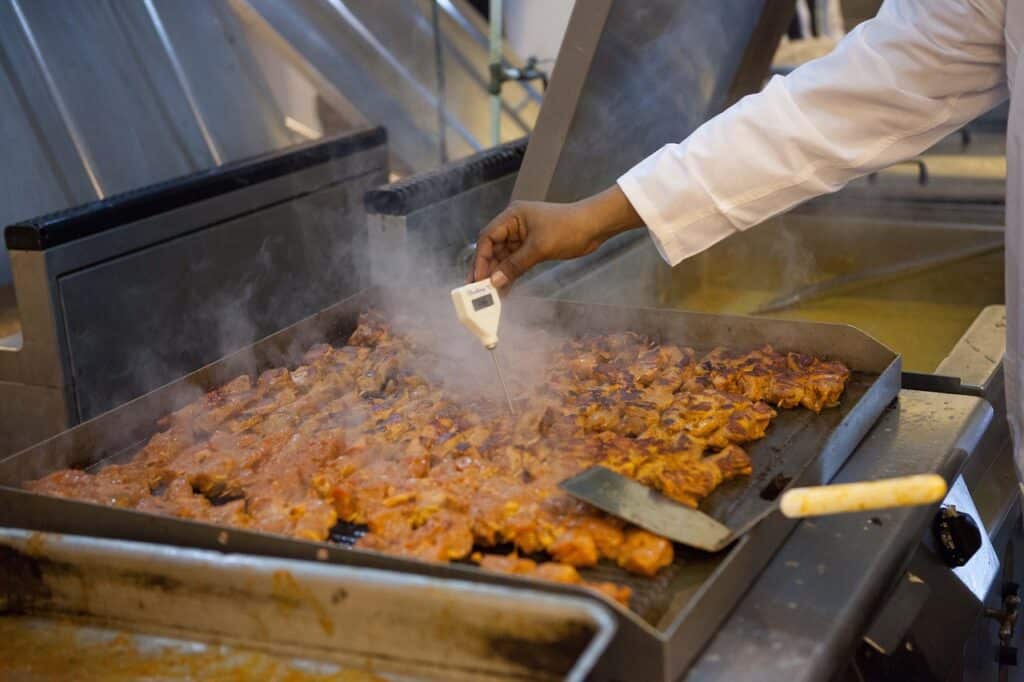 Food Safety Training Topics to Include in Your Restaurant Training Program
There are tons of topics to cover when it comes to food safety, so there will be no shortage of things to cover in your ongoing restaurant training program. It's a good idea to go over all of these topics at least once during the restaurant employee onboarding process, and then review these topics, either individually or in batches, during your ongoing regular training.
Here are some of the most important food safety topics to cover in your training program, and you may choose to add other topics as needed for your specific restaurant.
Why is food safety important?
Food safety is such a common topic discussed in restaurants that sometimes the real importance of it can get pushed into the background, especially if your team is already doing a great job with food safety and there haven't been any detrimental incidents. A solid and consistent reminder of just how important food safety is will help it stay at the front of mind, so that it will continue to be taken seriously in your restaurants.
The Hazards and Causes of Foodborne Illnesses
Foodborne illnesses are caused by eating unsafe foods, generally because they have been contaminated in some way. Food handlers should know about the common foodborne illnesses, what their causes are, and what consequences may come as a result of a foodborne illness.
How Food Becomes Contaminated
Each person working in the restaurant should understand all the ways that food can become contaminated. Depending on the foods you're working with, there can be a number of different situations to watch out for. For instance, if you're working with seafood, this can be a much more complex topic than if you're only working with coffee and pastries.
Physical food contamination – Physical food contamination is caused when something foreign or unexpected is present in the food and causes an actual physical injury or problem.
Chemical food contamination – Chemical food contamination occurs when chemicals are added or absorbed by food, and can cause unsavory consequences.
Biological food contamination – Biological food contamination is the most commonly thought of, and occurs when parasites, viruses, bacteria, etc, are present in the food and have an effect on the body when eaten.
Potentially Hazardous Foods
All food handlers should know about foods that can naturally be hazardous to consume. The classic example of this is the eating of raw fish in sushi, for instance. This is especially important to cover regularly if your restaurant serves foods that are considered potentially hazardous by nature, such as animal products and cooked starches.
Food Temperature Control
One of the most effective ways to prevent foodborne illness is to make sure the food is transported, stored, and prepared at the correct temperatures. You should also cover any procedures or technology you have in place to ensure proper food temperature control, including thermometers, refrigerator thermostats, date marking processes, and any food safety software you may have in place.
There should also be a review of proper temperature control during transportation, and the transferring of food from a vendor to your storage area. Generally, food temperatures should be tested before the acceptance of shipments, so that contaminated food doesn't enter your kitchens.
Cross-Contamination Mitigation
One of the biggest causes of foodborne illness is cross-contamination, so this is a topic that should definitely be revisited on a regular basis. It's also a major factor for those who may have common food allergies. You should go over designated areas for the preparation of certain food types, proper storage procedures for avoiding cross-contamination, and proper cleaning procedures to ensure sanitation before reusing tools and workspaces.
Personal Hygiene
In addition to keeping the workspaces clean, the workers themselves must ensure that they follow proper hygiene practices. This includes preparation required before coming to work, proper hand washing procedures while at the restaurant, the use of gloves and other protective equipment, and procedures to follow when an employee isn't feeling well.
Allergies and Allergens
While the majority of the emphasis on food safety is around cleanliness, an allergy can cause major issues no matter how well you've managed the rest. It's important for everyone working in the restaurant to understand that allergies don't always result in just mild discomfort like a rash or cough, but can be potentially deadly to some customers. They should know the most common allergies, and what items may be in your menu items that would need to be addressed for certain customers, so they can answer questions and potentially customize items to accommodate those with allergies.
Employees should also know what to do in an emergency situation when someone is having an allergic reaction. They should know where they can find an Epi-pen for immediate use, who to call in that situation, and how to stay calm and manage the other customers. You never know when this training will save someone's life.
Common Pests in Restaurants
One downside of working in a place that is stocked with delicious food, is that the pests think that it's delicious, too. The types of pests that could be present may vary depending on the restaurant's location, but employees should know what to watch out for, and what procedures to take if any sort of pest, big or small, is found around or in the food supplies. Some pests may carry significant risks, so any active preventive measures should also be reviewed.
Again, this list is not exhaustive, and there may be other important topics to cover in your food safety training program.
Using Online Food Safety Training Resources
Building a quality food safety training program in your restaurant business can be a daunting task, especially when you're growing or are already a large organization with a lot of locations. In some situations, it may be necessary to look toward online training resources to supplement your existing restaurant training program, and to make training more accessible by employees outside of their normal shift hours.
If you're looking for some online food safety training resources, here are a few that are commonly used in the food service industry in the United States. These resources are also accredited programs that would be able to help employees maintain their food handlers certification or food managers certification.
While we're focusing on the programs that are U.S.-specific, each country will have its own requirements and programs to help with this process.
National Environmental Health Association (NEHA)
The National Environmental Health Association offers programs that are accredited by the International HACCP Alliance, and meet most FSMA and GFSI standards. Courses cover just about every aspect of food handling from food manufacturing and processing, all the way through your food service operation.
Visit the NEHA website to explore the food safety training options.
ServSafe
ServSafe has been a consistent provider of food safety training courses throughout the country. They offer accredited courses for food handlers, food managers, alcohol servers, allergen training, and more.
Since the COVID-19 pandemic, they also now offer free training and re-opening resources to help your employees feel more comfortable navigating working in a busy, and often vulnerable environment.
State Resources
Your local state or provincial resources are a great place to start for information about online food safety training courses, especially in areas where the requirements may vary even from county to county. A quick search about food safety training in your state should easily yield some solid results on what the requirements are in your area, and offer some resources to find the right food safety training courses for you and your team.
StateFoodSafety
StateFoodSafety is another well-designed food safety training program that offers accredited courses for food handlers, food managers, alcohol servicers, and allergen training. Their programs are device-friendly, and so the training can be conducted on-the-go.
They also offer bulk and group pricing for organizations that have a lot of employees to train, so it could provide a solid solution for medium- and large-sized quick service and fast casual restaurant chains.
Visit the StateFoodSafety Website.
Ensure Food Safety Training with Restaurant HR Software
When working within a restaurant enterprise with many locations, you can save yourself a lot of time and effort during restaurant employee training by utilizing restaurant HR software. This software can be incredibly useful for keeping updated versions of your manuals, videos, and other resources in a place that can be accessed and referenced from anywhere and at any time.
Not only that, but restaurant HR software can also help you create onboarding and training documents and checklists that will ensure that each employee is up-to-date on their training, and that no important topics are missed. This can be especially useful when you are managing the training of new employees across a large number of locations, saving your HR department a lot of time and energy in tracking the progress of each new employee.