As SynergySuite continues to innovate, we are happy to share our latest advancements and product releases for the SynergySuite application in 2022 and early 2023. These additions are designed to help our customers streamline their back-of-house operations, increase margins, and expand their operations.
Our team of experienced developers and engineers have been hard at work creating new features and improving existing ones to make SynergySuite the most user-friendly and efficient restaurant management system on the market. With these advancements and more, SynergySuite is poised to continue to revolutionize the way restaurants operate in 2023 and beyond.
2022 Product Releases
Since our 2021 end-of-year recap webinar, we are excited to announce several new product updates as we continuously improve our product to best meet the needs of our customers, and provide ease of use and consistency throughout our platform.

Plus, scroll through to the end to get a sneak peek at upcoming feature releases!
Our updates cover a full range of UX/UI updates including:
A Web Style Refresh
Updated Reports & Tools, including:

Labor Report
Prep Prediction Tool
Schedule Editor
Predictive Ordering Tools
& more!
Web Style Refresh
The biggest update of the year, came about in February, as we released a full web-style refresh. Our web portal has undergone a complete web-style refresh, giving it an updated and modern appearance. This means that when you use SynergySuite products, you'll enjoy a seamless and consistent user experience, making it easier to navigate and use our software.
We've also made sure to align our features, improve accessibility, and create more intuitive flows for our users. With these design updates and tool refreshes, you'll be able to spend less time sifting through reports and more time focusing on operating your business.
Take a look at a preview of some of our (now live) design updates above.
We also introduced new features, updates, and tools to help our restaurants have more oversight of their restaurants.
Labor Report Tool Redesign
The Labor Report Tool got a new facelift. Spend less time looking at reports and spend more time operating your business. With our updated Labor Report Tool UX design, we've made it easier to use and read so you can find what you need fast.
Prep Prediction Tool Updates – Actual vs Theoretical Daily Totals
Revolutionize your daily prep routine with our cutting-edge "Prep Prediction" tool. Say goodbye to the headache of trying to keep track of what your staff is actually prepping versus what you should have prepped. With our intuitive system, you can easily compare the two and make adjustments as needed.
But that's not all – we've taken things to the next level with our latest update. Our tool now allows you to enter in your daily opening counts, providing you with a comprehensive understanding of the full requirements for your day.
New Schedule Editor – Week View
We've completely redesigned our Schedule Editor tool to make it easier and more efficient than ever before. The new Schedule Editor is packed with game-changing features, including improved drag-and-drop functionality that lets you quickly and easily create schedules that work for you and your teams.
Our new personal panels make it a breeze to identify employees who need special attention, such as loaned employees or those under 18. And with our open shift summary, you can instantly see all available shifts, making it simple to fill any gaps in your schedule.
But that's not all – our new Schedule Editor also comes with a host of other amazing features, like better employee grouping and sorting in a new view mode, auto-assignment support, and schedule modals converted into tabs for faster navigation. Plus, you can easily print schedules, track and alert overtime, and use supported keyboard shortcuts to save even more time.
Shelf Life: Minutes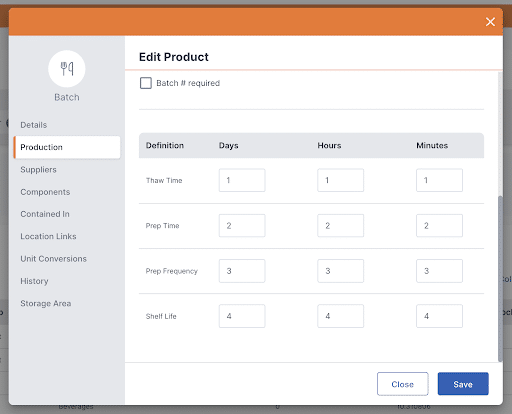 Say goodbye to measuring shelf life in days or hours, and embrace the power of granular insights. With the addition of Shelf Life: Minutes – Now, you can measure your inventory's shelf life in minutes, giving you unparalleled accuracy and control over your stock.

With Shelf Life: Minutes, you can pinpoint exactly where waste is affecting your stores the most, and take action to save your business valuable time and money.
Setting Management Updates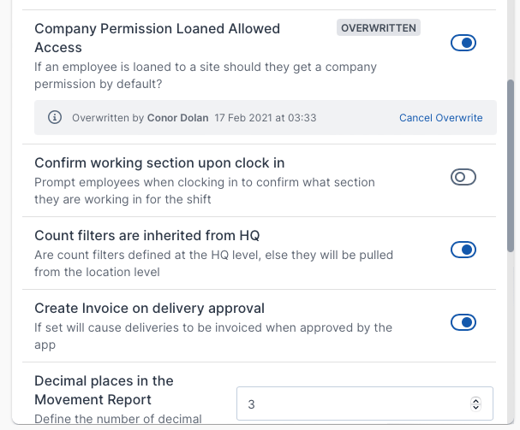 New administrative settings allow administrators to have more control of their systems and processes. The added settings can be custom-set to an organization's individual needs – and allows a better understanding of changes and history across locations.
2023 Product Releases
Our product team has a full roadmap for 2023, packed with improvements and innovations we know you'll love.

Here's a sneak peek of some of the features that have already been released so far this year that will make it easier for you to run your back of house the way you want, unique to your operation.
Predictive Ordering Updates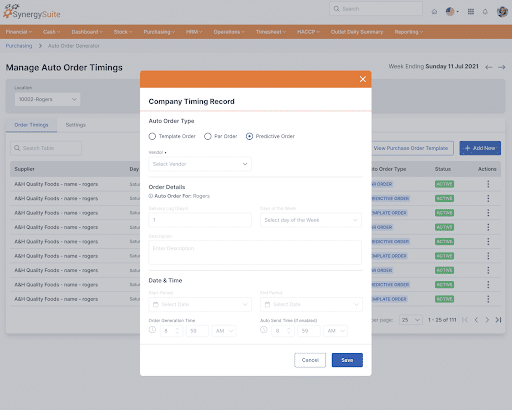 We've revolutionized our predictive ordering tool to help businesses streamline their purchasing process and order the right amount of inventory at the right time. Our updated feature generates purchase orders based on predictive sales quantity, taking into account various factors like in-stock levels, items on order, reorder levels, and sales forecasts.
Our latest update includes an even more advanced logic system for calculating order quantity. The system now factors in the last stock take, transfer ins and outs, and the quantity of items on order but yet to be delivered. We also consider the reorder level to ensure that each item is ordered with optimal inventory amounts.
With our predictive ordering tool, businesses can avoid the pitfalls of overstocking and understocking, which can negatively impact cash flow and profitability.
Automated Fiscal Calendars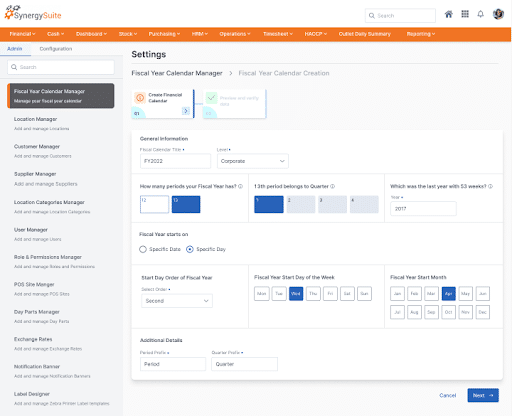 Ensure that your back-of-house operations are in sync with the rest of your business by utilizing SynegySuite to develop and automate fiscal calendars for the future. With just one creation of your fiscal calendar, you can guarantee that it aligns perfectly with your current internal calendar and never have to worry about it again. View reports and dashboards tailored to your business's preferred format.
Product Inventory Management Updates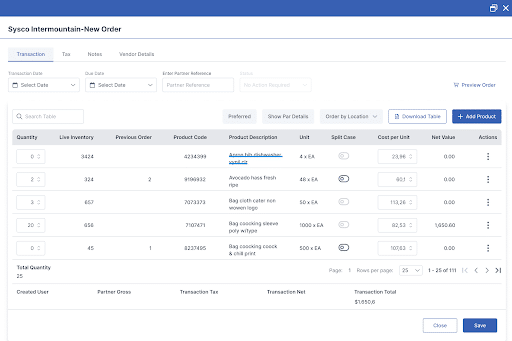 Discover three exciting new features that take your inventory management to the next level with SynergySuite. Say goodbye to stockouts and missed orders with our Total Quantity for Orders feature. This innovative tool allows you to track the exact amount of inventory ordered from your vendors, giving you the insight you need to fulfill orders quickly and efficiently.
Looking to streamline your kitchen operations? Look no further than our new Cook Frequency and Cook Times features. Now you can easily track the frequency of your cooking and the cook times for each of your inventory items, allowing you to optimize your kitchen processes and save time.
And that's not all! Our latest update also includes the ability to remove products from locations and storage areas in bulk, directly from the product modal. With this time-saving feature, you can manage your inventory across multiple locations quickly and efficiently.
New Features:
Total Quantity on Orders
Cook Frequency and Cook Times added to Inventory Items
Ability to Remove Products from Locations/Storage Areas in Bulk
Improved End of Night Shift Confirmation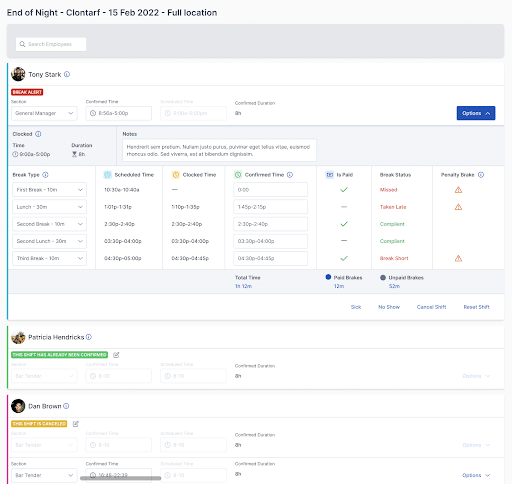 Managing daily shifts and employee breaks just got easier! Our latest update makes it easier than ever for managers to confirm employee shifts and manage breaks effortlessly.
With our intuitive interface, you'll have access to a range of break options and penalties, giving you greater control over your team's schedule. Plus, our platform provides managers with greater visibility and control, allowing them to make informed decisions that keep their team refreshed and productive.
By keeping all the necessary information at your fingertips, you can ensure that your team stays compliant with break policies and boost employee productivity.
Coming: Hierarchy for Reporting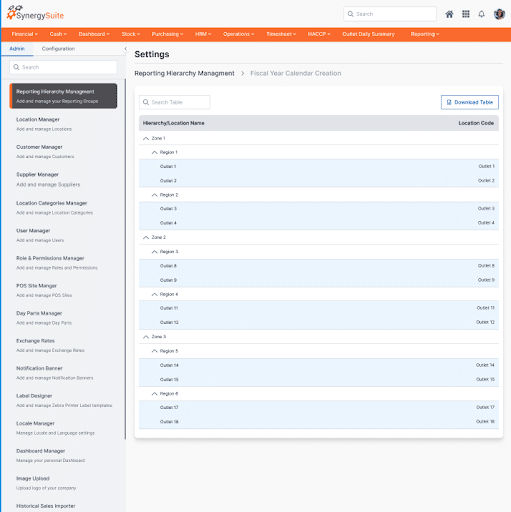 In our upcoming release, we're introducing Hierarchy for Reporting, the innovative new product that allows you to easily upload an Excel file with the matching hierarchy used within your business. With this powerful tool, you can now drill down into locations at each level of your business, giving you better-reporting data.
—
We are constantly working to improve our product's user interface and features to streamline restaurant operations, and we are immensely grateful for the support of our teams, customers, and partners. Our mission to help restaurants achieve their goals by enhancing operations, profitability, and customer and employee satisfaction fills us with excitement and pride.
Stay tuned for exciting new developments, or subscribe to our newsletter to stay informed about the latest news.