It's hard to believe that another year has come and gone, but here we are at the beginning of 2023. And what a year it has been for our company! We are proud to announce that we have won several awards this year, further solidifying our position as a leader in our industry.
First and foremost, we are thrilled to have been named "GOLD Company of the Year" in the food & beverage industry by the Stevie Award Foundation American Business Awards. This prestigious award is given annually to the company that has demonstrated exceptional performance in terms of innovation, customer service, and overall business success.
In addition to being named "Best Company of the Year," we also received several other awards this year. We were honored to be named "Gold Titan Award Winner in the Products & Services Category" by the Titan awards, and a Gold Titan Award Winner in the Business Technology Solutions Category thanks to our commitment to our product. We were also recognized for our excellent customer service, including a Silver Stevie for "Achievement in Customer Success" for best customer success across the ENTIRE software technology sector.
Overall, we are incredibly proud of the awards we have won this year and are grateful to our customers, employees, and partners for their support and hard work. We are looking forward to continuing to provide exceptional products and services in the coming year.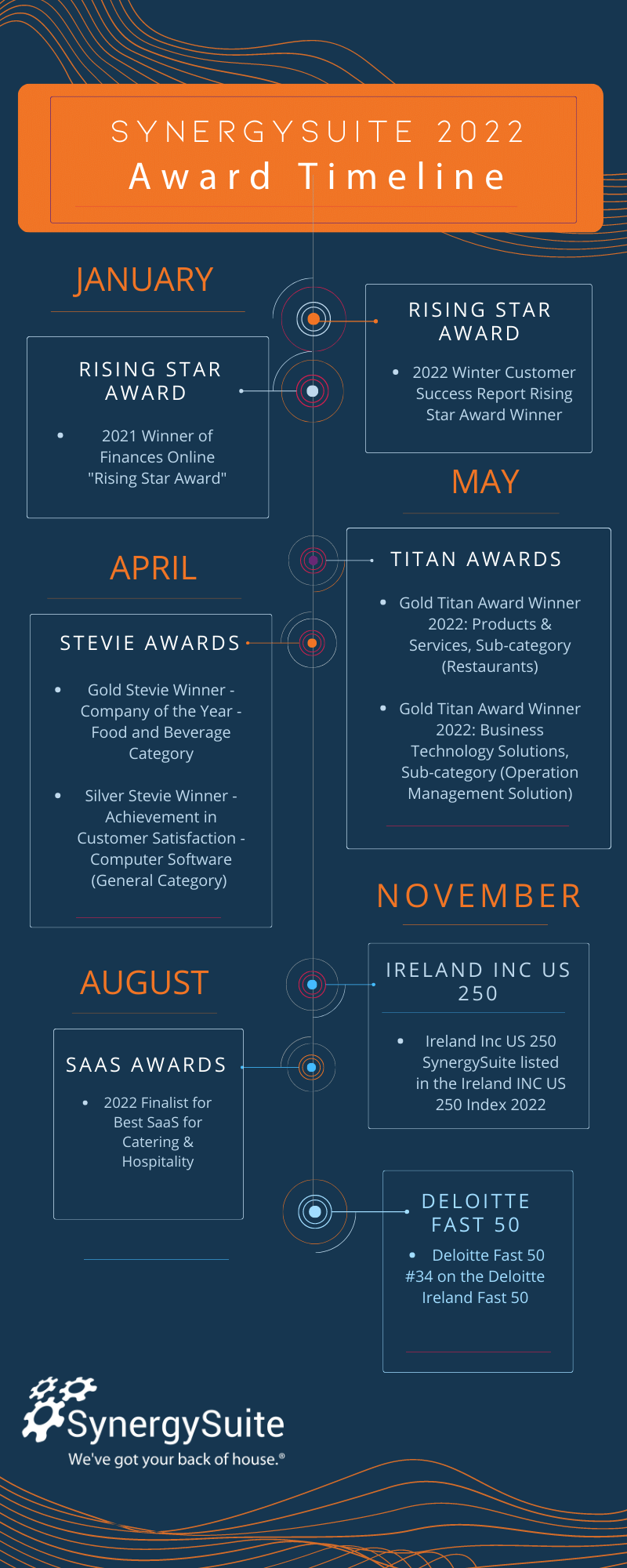 Timeline of Awards
January 1st, 2022
2021 Finances Online Rising Star Award
At the end of 2021, the beginning of 2022 SynergySuite was awarded the rising star award by FinancesOnline.
You can read the full SynergySuite listing on FinancesOnline here.
January 11th, 2022
SynergySuite Awarded the Rising Star Award by Featured Customers
SynergySuite is listed as a 2022 Rising Star in Restaurant Management Software as a disruptive technology leader, leading the market.
View the entire Customer Success Report here.
May 16th, 2022
SynergySuite wins Multiple Gold Titan Awards
Gold Titan Award Winner 2022: Products & Services, Sub-category (Restaurants)
Gold Titan Award Winner 2022: Business Technology Solutions, Sub-category (Operation Management Solution)
TITAN Business Awards' mission is to acknowledge the achievements of both entrepreneurs and organizations worldwide, the award aims to provide recognition for all who are over-shadowed, as well as established, organizations around the world.
April 28th, 2022
SynergySuite wins two Stevies, including COMPANY OF THE YEAR for the Food & Beverage Industry at the Stevie Awards – American Business Awards!
Gold Stevie Winner – Company of the Year – food and beverage category
Silver Stevie Winner – Achievement in Customer Satisfaction – Computer Software (General)
August 17th, 2022
2022 Finalist for Best SaaS for Catering & Hospitality
SynergySuite is listed as a finalist for the Best SaaS product for catering & hospitality by the SaaS & Cloud Awards foundation.
November 6th, 2022
Ireland Inc US 250 SynergySuite listed in the Ireland INC US 250 Index 2022
The Ireland INC US 250 Index 2021, supported by KPMG Ireland, recognizes 250 Irish companies investing and operating in the US.
November 24th, 2022
SynergySuite is listed as #34 on the Deloitte Fast 50
SynergySuite was recognized as one of the Deloitte Technology Fast 50 Award Winners! Read the full press release here.
"In an industry that has been hit hard over the past few years, we are proud to provide technological solutions to help restaurants thrive and grow through the hard times." – Greg Staley, CEO of SynergySuite.
We are fortunate to have such a talented team and wonderful clients, restaurants, and partners to support us in 2022. We are excited to continue supporting the growth of global restaurant brands in 2023, even in the face of ongoing industry difficulties.

Looking to step up your restaurant operations with SynergySuite in the New Year? Schedule a demo with our team today!